Qld Utility Locating is a Brisbane family owned and operated business. What sets us apart is that we are not just utility locating services or leak detection technicians - we are trade qualified plumbers.
Because of our trade background, we can easily liaise with on-site supervisors, builders, tradies and home-owners alike. We help problem-solve and remedy issues that you may be facing at home or on the work site. We are one of few companies that have actually laid pipework, and we are familiar with most materials used in the ground. We know what is going on underground.
Certified Locator with Dial Before You Dig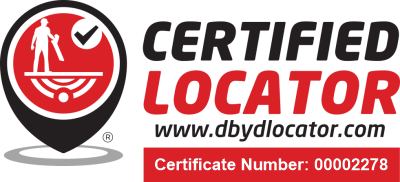 Qld Utility locating is a Dial Before You Dig Certified Locator, Certificate 00002278. Having undertaken a rigorous assessment for locating that contains both theory and practical elements, Qld Utility Locating is certified by industry experts to distinguish us from the "DIY" or self-authorised locators. When you use Qld Utility Locating you can be rest assured, we have the appropriate equipment and expertise to safely and competently carry out a variety of locating techniques to accepted industry standards.
Service Locator Brisbane - Capability Statement
You can also download our Capability Statement
Service Locator 24 Hour Emergency Service
We appreciate deadlines made by building and body corporate managers, so we offer a 24-Hour Emergency After-Hours Service. We guarantee to be on-site the same day you contact us. Qld Utility Locating incorporates multiple services which enables just one phone call to take care of your emergency.