We've helped plumbers in Brisbane improve their productivity and service reach by up to a whopping 50%
Can we work with your plumbing business too?
Qld Utility Locating have vast experience helping plumbers with underground service locating through general maintenance, renovations, commercial and industrial works, fire servicing and maintenance and new homes.
With our underground service locating equipment, we expand our service offering in your business. We're tops at service locating on poly, blue brute, copper and galvanized lines. CCTV recording for sewer and storm water lines makes reporting a breeze. Our GPR (ground penetrating radar) is available for those difficult to find services, voids and underground tanks.
Expand your services with our wealth of field experience in underground service locating
Grow your business with our broad experience in the field and 20 years' experience with plumbing work. We give you the assurance knowing that your plumbing service has someone on your site for those difficult to solve challenges.
Broad knowledge in underground service locating to help your business
Our extensive knowledge allows us to work alongside some of Queensland's biggest companies and organisations. To date some of our regular clients include -
Brisbane City Council
Hutchinson Builders
Queensland Rail
Inta Flow Pluming
Logan City Council
Westfields
Water Leak Detection assistance for plumbers - with Tracer Gas method
Water leak detection can really present some challenges with the majority of the problem being finding the location of water mains. Coupled with our underground service locating, we have all the suitable equipment to test and verify any on site water leaks even in the most difficult situations. Our Sewerin acoustic leak detection equipment uses nitrogen that allows us to listen for water leaks with increased precision. This gives us the ability to locate poly and blue brute fire mains. Hydrogen gas detection with our Sewerin gas detector (with tracer gas) completes our comprehensive range of services to assist plumbers.
Rewards for you with our Plumbers Loyalty Program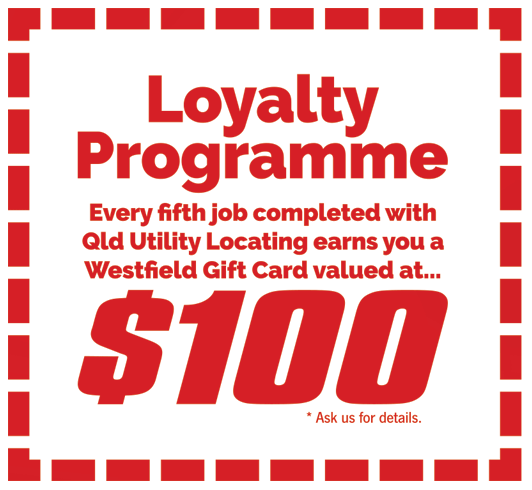 We really do appreciate our plumber clients. As a token of thanks to any plumbers using our services, in return for using Qld Utility Locating services for every 5th job booked in with us you receive a $100 gift voucher.
We love working with plumbers
We act as your specialists in locating services for your clients
We work diligently and unsupervised for your plumbing business
20 years of plumbing experience
We work in general maintenance, renovations, commercial and industrial works, fire servicing and maintenance and new homes
We work with Local Councils, Builders, Renovators, Architects, Electricians, Plumbers, Hydraulic Engineers, Commercial Businesses, Engineering Practices, Environmental Companies
CCTV Camera inspections and jet rodding of block drains
We know we can assist you and your business with investigation and clearing of blocked drains. We're able to work with your commercial, industrial, residential, body corporate clients. We can carry out inspections and we have commercial grade push cameras to meet the toughest jobs allowing us to accurately pin point problem areas.
Our CCTV camera equipment has a tilt camera that let us to closely inspect pipe condition and zoom right in on issues giving accurate feedback on the real problem at hand.
Accurate reporting to your clients
There's nothing better than being able to validate an underground pipe or drain problem with written and video evidence to your client - reporting in your inbox with video and photos.
For situations where we encounter blocked drains, with our jet rodding service, we can clear blockages and silt from storm water drains.