Ground Penetrating Radar Locating Service, Brisbane.
Before proceeding with any underground work, whether on a job site or even at home, the best practice is to review the site is for any possible utilities or underground structures. With and underground service locator, you're carrying out a time-saving site inspection and survey using our ground penetrating radar system will ensure you or your team is well informed about what lies below the ground surface giving you the best chance make clearer and more cost-effective decisions around a planned project. Projects proceed without a hitch saving costly delays, additional unexpected costs giving a successful outcome. Qld Utility Locating Services are experts (certified) in the use of GPR (ground penetrating radar) to find not only service utilities like water, power or other services, but we're also to find underground structures, soil, rock, water sources, underground voids (natural and man-made) and cracks.
Ask us online now about your job.
ARE YOU LOOKING FOR A PRICE? As a guide, jobs start from $220 ex GST and include travel within 30 klms of Brisbane Metro. But, it's always best to ask us online, or call us - we're only too happy to discuss your job requirements.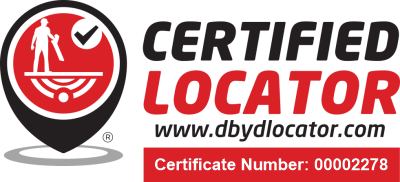 What is Ground Penetrating Radar?
Ground penetrating radar is a geophysical method of locating that uses radar pulses to image what is under the ground. GPR is a non-destructive method uses electromagnetic radiation in the microwave band (UHF/VHF frequencies).
How does GPR work?
GPR detects the reflected signals from subsurface structures and has a wide range of applications including locating rock, soil, ice, water, pavements and underground structures. It's also used to detect changes in material, and voids and cracks.
Deeper technical information about Ground Penetrating Radar.
The depth range of GPR is limited by the electrical conductivity of the ground, the transmitted center frequency and the radiated power. As conductivity increases, the penetration depth also decreases. This is because the electromagnetic energy is more quickly dissipated into heat, causing a loss in signal strength at depth.
Higher frequencies do not penetrate as far as lower frequencies, however they will give better resolution image.
The best depth penetration occurs ice. GPR can achieve the depth of penetration of up to several hundred meters.
Good penetration is also achieved in dry sandy soils or massive dry materials such as granite, limestone and concrete where the depth of penetration of up to 15 meters can be achieved
In damp, high moisture or clay-laden soils and soils with high electrical conductivity, penetration is sometimes only a few centimetres
GPR uses transmitting and receiving antennas or some GPR units can also have one antenna containing both functions. The transmitting antenna radiates short pulses of the high-frequency (usually polarized) radio waves into the ground. When the wave hits a buried object or a boundary with different constants, the receiving antenna records changes in the reflected return signal. The principles involved are similar to reflection seismology, except that electromagnetic energy is used instead of acoustic energy, and reflections appear at boundaries with different dielectric constants instead of acoustic impedances.
The differences between service locating and ground penetrating radar.
Both service locating and ground penetrating radar are effective, but each has its benefits. Service locating enables us to locate services with an electromagnetic field. In some cases a service may be non-metallic. With ground penetrating radar, a wider range of materials can be detected. Additional applications include -
Poly water pipes and fire services
Underground utility services including gas, power, water, optic fibre, communications, storm water, sewerage and manholes
Sewer lines and manholes
Stormwater lines and manholes
Discovery of services not shown on council or utility plans
Fibre-cement
Underground storage tank locating
Locating empty conduits
Natural or man-made void identification
Changes in geology and subsidence areas
Prevent unnecessary damage to underground services, structures and other building assets
We're fast at locating services
Qld Utility Locating can locate the following services:
Optus
NBN
Electrical
Gas metallic & non-metallic pipes
Water and fire service mains, metallic and non-metallic
Drains
Sewer drains

Be aware that some service locating operators can only locate metallic pipe work, but we're able to also locate plastic pipes. It is essential to locate underground services before you start any project. Beware that you may cause damage and encounter unexpected expenses to repair any damage if you damage a public utility. Also be aware that striking electrical cables can not only be costly but highly dangerous, causing injury or death.

ASK ONLINE CALL NOW